Testimonials
Great handcrafted belt! What surprised me was no run off black color onto khaki pants or shorts.. Your competitor H***s, I saw on YouTube, their dye rubbed on customer clothes through belt loops... keep on with this product. I would buy again cause it's great with my BLACKHAWK CLASSIC SPEED HOLSTER, for my Taurus M85 38cal..looks professional. Black holster black belt looks great! USA! USA! USA!

M.Bowling
I didn't expect this to be this great of a belt. I mean it's $30 I thought it'd be a thin belt I'd just wear it out and have to buy a new one next year. but seriously this is not that belt. It's real leather it's REAL tough and I'd be surprised if this didn't last me for 10+ years its so well made. I can't believe I found this deal. Seriously best gun belt I've found.

Tom
This belt is heavy duty and and is great quality and a great deal compared to other gun belts twice the price. Good communication and fast shipping. Will purchase a brown belt soon. Thanks!

Matthew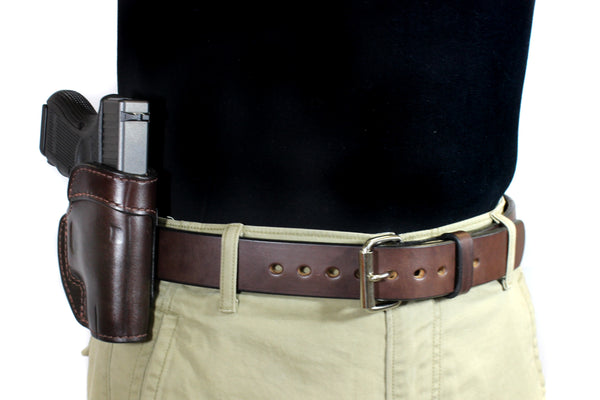 Our $30 Premium Quality US Gun Belt beats all competitors at this breakthrough low price.
The Thirty Dollar Gun Belt™ (Yes, $30). Sensible Price. Top Notch Quality™. Introducing safe, secure, and comfortable for all day gun carry. USA custom quality from an experienced gun belt maker company that brings belts to a sensible price point. (Big named belt companies charging much more will not be happy with this belt competing with their quality and cutting into their huge profit margins.) Compare this belt to all higher priced top selling cowhide, bullhide, English bridle leather gun belts and save money!
Get the most important part of a safe gun carry foundation with this premium gun belt.